Posted on November 4, 2020 by sylius
How to Deter Burglars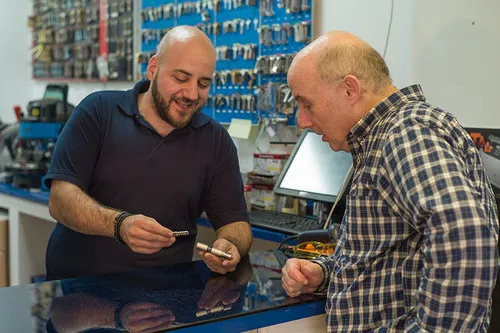 Ultimate Guide to Keeping your House Safe From Burglars
Make your home as safe as houses with our expert guide with advice from the Metropolitan Police
The good news is that burglaries across the UK have dropped YoY since 2003 from 890,000 to 356,000 in 2020. With more burglary convictions in the last 20 years, improvements in smart home security products, and a population who are more aware of the risks, the chances of having your house broken into is lower than ever before.
However, burglaries still happen. In the last 5 years, London has had around 5,000 burglaries a month on average. Making your home a deterrent for burglars is still as important as ever.

We found advice from police services across the country for their best burglar deterrent strategies and compiled them in our ultimate burglar deterrent guide below.
By following these simple home security tips, you can help ensure that your home is as safe as houses
The key thing you need to remember is no house is burglar-proof. Burglars are opportunists and will often avoid a job if it means they have to jump through too many hoops. Aim to put as many obstacles in their way to minimise their opportunistic behavior, and adapt your routine to make sure you don't give them a chance too.
1. Secure doors and windows from opportunist burglars
The most secure way of preventing entry is tightening up door security with the following (your home insurance will have these points as standard in your policy).
· Install an auto deadlocking nightlatch with Kitemark BS 3621
Deadlocking nightlatches area great way to make sure your door is locked fully each night. A deadlocking night latch looks similar to any other night latch, except you can lock the latch on one full turn on the outside. You will not be able to open the lock from the inside as the handle will be disabled. It means thieves can't open the door from the inside by smashing a window or putting their hands through a letterbox.
· Invest in a smart home security doorbell camera with audio and video
There are lots of smart doorbell brands available with lots of options. A smart doorbell can alert you when there is someone suspicious at your door, or if a delivery arrives when you're out, you can direct the driver to a neighbor. We offer free fitting and advice with all our smart doorbells.
· Add a letterbox cage and brush
Letterbox cages stop burglars from being able to reach inside through the letterbox to tamper with the locks. It can also help top thieves spotting you're out or on holiday by hiding your post.
· Install a door peephole if your door doesn't have windows
Burglars can also appear to be door-to-door salespeople whilst scoping your house for an upcoming burglary. Having a peephole in place allows you to check who is at the door before you decide to open it.
· Take keys and valuables like handbags and rucksacks away from doors and windows
Burglars can take your belongings, cars, money, and other valuables without even entering your house. Make sure keys, handbags, purses and other valuable items away from doors and windows where they can't be easily accessed through a letterbox. Cars with keyless entries can be accessed remotely with amplifier black boxes held near your door. Once the key opens the car, your car is as good as gone. Store your keys in other parts of the house that aren't easily accessed from outside, like your landing or kitchen larder.
· Add a secure mortice lock and mortice bolt if you have French doors or patio doors
French doors can be a security risk if not secured properly. All the security and effort added to your front door are only as good as your least secure door or window. Fit a mortice lock and mortice bolt to patio or French doors. They'll stop the locks from being tampered with from both sides, making access much harder.
· Add secure window locks to all ground-floor windows and doors
It's also important to fit window locks with keys to windows on the ground floor and basement. You would be surprised at the agility of some burglars to maneuver themselves through the smallest of spaces. Check the function of your locks regularly too. All it takes is a broken window lock for a burglar to gain access easily.
1. 2. Secure the outside of your home
If you have a shed and garage these must be fitted with strong locks.
Sheds, garages and other outbuildings are easy targets. As well as adding deadlocking nightlatches, consider adding security grilles to any windows. It's not as expensive as you think, and it means burglars are deterred from breaking into windows through grilles. Sheds can be secured too with some good bolts and hiding any tools, bikes and valuable items out of view. Adding curtains to your shed window is also a good deterrent and makes the operation riskier to the thief.
Deter burglars from your home with lights, CCTV, and alarms
You should also consider security devices like visible burglar alarms and outside lights which will act as a deterrent. There are many different alarms on the market – please take advantage of our experience and expertise in this area for free advice based on your requirements and budget as well as installation options. You can also seek advice from your insurance company. Alarms and lights act as a deterrent to burglars. Plus, once you have an alarm, it is really important to regularly change the alarm code. Why spend money on an alarm if you're going to stop it from being effective?
Don't store loose bricks, rocks, or other heavy items in your front garden
Put your rockery in your back garden instead of the front. Thieves are opportunists, so don't give them an easy way to break into a window or door with a brick from your front garden. This goes for any loose bricks in your front garden walls and gate. Take them away until you're ready to add them back again with cement.
Keep ladders hidden away in sheds or garages
This goes for any tools you have, but make doubly sure you don't store ladders outside. This reason is fairly obvious, but many people still leave ladders stored outside in the garden after use. After securing your ground floor windows, you're leaving the upper floor vulnerable to break-ins too as the burglars can climb their way into and through an open upstairs window.
Don't leave boxes, tables or storage containers next to windows
Burglars are opportunists and the likelihood of you securing a small downstairs bathroom window in the same way you secured the front door is not likely. Don't help them through the window by placing tables, chairs, storage boxes, and the like near windows.
Don't leave easy hiding places for burglars outside
Keep hedges and bushes low and maintained regularly. Burglars' main fear is being disturbed during a job. So if a neighbor or passer-by can't spot your house being broken into because the hedges and trees in your front garden are blocking the view, you're leaving your house wide open for undisturbed break-ins.
3. Secure the inside your home
Mark your most expensive possessions on the Immobilise Property Register
Add your postcode and the number of your property and register all valuable items with the Immobilise Property Register. It's completely free. Immobilise helps Police identify the owners of recovered property thousands of times every day. And any property updates you make are immediately available to the Police.
Check your house and contents insurance for protection during burglaries
It's important to make sure you're getting the best deal on your house and contents insurance, but make sure you're fully protected in the case of a burglary. And if you don't have house and contents insurance, make sure you get it immediately. Shop around for quotes by all means, but make sure you're getting enough protection. When you need help from your insurance, you really need good insurance that will cover the costs of any losses.
4. Going on holiday
Don't show off your holiday photos until you come back
When preparing for a holiday don't write about it on social media (for obvious reasons!). Avoid the temptation while you're there too to post pictures and check-ins on Facebook about what a lovely time you're having away from your empty house. Facebook isn't secure at all, even if you've hidden your profile. Wait until you come back to post your hot dog pics by the pool.
Get wifi lightbulbs and plug sockets to come on whilst you're away
These are very inexpensive to buy and they really do make it look like you're in. You can even get plugin lights to look like the TV is on too. The chances of a burglar prepared to enter a home when the occupants are awake and aware in the house reduce dramatically.
Consider buying remote interior webcams to check into your home whilst you're away
These are also really inexpensive these days and there are many options to choose from. Not only acting as a deterrent, they also alert you to any movements when you're not expecting them, enabling you to call the police when you're away if a burglar does get into your home.
5. Upgrade your home with smart home security devices
Many households are taking advantage of smart home security systems. These are made up of a combination of cameras, detectors and locks that alert you when a door or window are opened.
You can purchase these as smart security kits through a hub that enables you to monitor the activities inside or outside your home on a smartphone or tablet, or you can purchase the items separately. Combining the latest security gadgets with home automation technology, you can be in touch with your home and family remotely through a smartphone, computer, or tablet device.
The obvious advantages include being alerted on your smartphone when a person is approaching the property and being able to monitor children's movements inside the house and being in touch with elderly relatives or friends who live in a different property. Smart home technology is delivering its promises helped by better wireless options and voice technology. And with falling prices of crucial gadgets like sensors and controllers and other multi-purpose options are reaching a mass market.
Don't forget, however, many gadgets and gizmos you may be enticed by, remember the best security involved good old-fashioned common sense. Don't give burglars a chance!
Smart Choice Security not only offer the very best home security products, but we also offer a free installation service too. It's all part of our service. Browse our range of locks, smart home devices, and more here